[ad_1]

Pratt & Whitney's new avionics cloud computing partnership will open the aircraft engine manufacturer's analytics platform EngineWise to information captured by Teledyne Controls flight data acquisition systems about the health and status of nearly every airframe part and component on a per-flight basis.
The partnership will allow operators using Pratt & Whitney's EngineWise data analytics platform to start feeding their data centers with all of the parameters captured by onboard Quick Access Recorders (QAR), such as Teledyne's GroundLink Comm+ wireless cellular connectivity system. By giving EngineWise users access to this data through Teledyne's Data Delivery Solution (DDS) Pratt customers now have instant cloud-based post-flight access to the same amount of raw data that is captured by the Flight Data Recorder in a clean actionable format.
Teledyne describes DDS as a cloud computing service that can redact or mask certain data parameters that airlines prefer not to share with OEMs.
"Pratt & Whitney's Geared Turbofan (GTF) engine incorporates significantly more sensors than prior engines and can generate millions of data points per engine per flight, providing significant improvements in avoiding unplanned maintenance. These parameters, when collected via devices on board over the full flight, allow us to develop a very thorough picture of the health of the engine," Joe Sylvestro, vice president of Global Aftermarket Operations at Pratt & Whitney told Avionics International.
EngineWise was first launched by the company in 2017 featuring a suite of web-based software tools that analyze engine data in search of anomalies or trends captured by the sensors mentioned by Sylvestro. As an example, an airline maintenance team can use the system for a sensor configured to monitor how much fuel is required to generate a set amount of thrust or power. As that engine completes more flights, they may assume that the engine's efficiency is degrading if the amount of fuel required to generate that set amount of power continues to increase over time.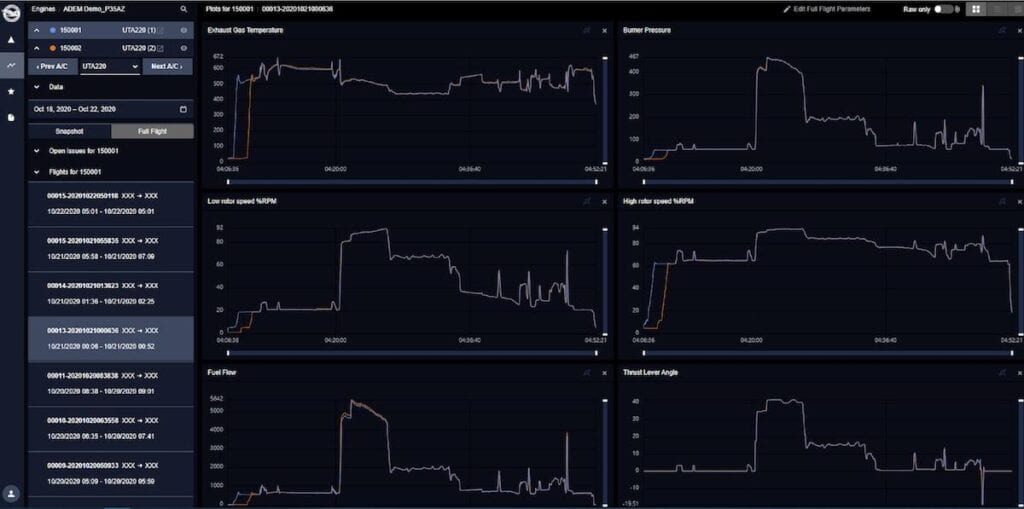 "The collaboration with Teledyne Controls will enhance engine health management services offered to Pratt & Whitney-powered aircraft, focused on Teledyne Control's global customers. Teledyne's Data Delivery Solution is one option for collecting full-flight data. In any case, our goal is to minimize the data management burden on the customer," Sylvestro said. "With regard to [Aircraft Communications Addressing and Reporting System] ACARS, we continue to use snapshot data to provide customers with analytics services while full-flight data-enabled services capture data throughout the flight."
Teledyne's quick access recorders and GroundLink Comm+ cellular system enable real-time data streaming, cabin and flight crew connectivity, wireless distribution of field-loadable software parts and automated flight operational quality assurance (FOQA) data downloads. The technology is used by more than 200 commercial airlines on more than 14,000 aircraft.
Mike Penta, vice president of Sales and Marketing at Teledyne Controls told Avionics that the partnership opens up access to QAR data for Pratt & Whitney operators, and removes some of the past barriers that have prevented such access.
"Pratt & Whitney operators can now feed EngineWise with any aircraft data captured by Teledyne avionics onboard, predominately digitally distributed by the Teledyne GroundLink Comm+ system. As to what new type of data, it is specific to each airline as some are more 'e-enabled' than others," Penta said.  "Teledyne can assist in enabling 'full flight data' to supply the EngineWise platform everything that it needs, in a timely manner, at a more precise, higher resolution level than traditional data feeds such as ACARS messages. Being able to also enable additional data points within the aircraft data frame was part of the attraction of working directly with Teledyne."
According to Penta, airlines operating aircraft powered by Pratt & Whitney engines that do not feature GroundLink Comm+ can still take advantage of the new partnership and DDS without modifying their existing avionics systems.
"Even for airlines who do not have GroundLink Comm+ units onboard but are still using 'sneaker net' to take data from their aircraft data acquisition units, we can still make it work. It technically does not have to be exclusively Teledyne hardware. Teledyne DDS is agnostic and can work with other QAR systems as well as other various OEMs," Penta said.
Penta said other OEMs have also expressed interest in what he describes as an "instant data lake" that can be enabled once their native analytics platforms are digitally linked to Teledyne's flight data cloud computing analytics service. Thus far, the expanded version of EngineWise is being used by one European low-cost carrier and an airline based in the Middle East, both of which requested to remain unnamed.