[ad_1]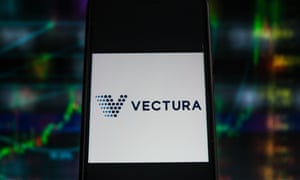 The logo of UK inhaler maker Vectura Photograph: Omar Marques/SOPA Images/REX/Shutterstock
Good morning, and welcome to our rolling coverage of the world economy, the financial markets, the eurozone and business.
The takeover battle for Vectura, the UK inhaler company, between a private equity company and a cigarette maker has escalated after Philip Morris hiked its offer for the company.
PMI, the owner of Marlboro cigarettes, has lifted its bid for Vectura to just over £1bn, just a couple of days after its previous bid was trumped by Carlyle, the US private equity group.
Carlyle's bid had been accepted by Vectura's board… following criticism from medical experts alarmed about the prospect of a major tobacco company owning a firm which makes medicines and devices to help with breathing problems.
PMI insists that it is committed to a long term transformation of its business to go 'beyond Nicotine', rather than being focused on "short term gains and efficiency" (a pop at the much-criticised private equity model).
Its plan to run Vectura as an autonomous business unit that will form the backbone of PMI's inhaled therapeutics business:
PMI intends to increase the total level of expenditure on research and development that it believes will further benefit Vectura's differentiated technologies and development expertise for the delivery of complex inhaled therapeutics….
PMI believes that its significant expertise in scientific research, regulatory science, manufacturing, supply chain and commercialization globally (with operations in over 180 markets), will safeguard and enhance the development of Vectura and its capabilities in complex inhaled therapeutics.
Philip Morris's bid is worth 165p per share, beating the 155p per share offer from Carlyle (worth around £958m), which Vectura accepted on Friday afternoon (ditching its support for an earlier offer from PMI).
Guardian news
(@guardiannews)
Carlyle ups bid for inhaler firm Vectura, trumping tobacco giant Philip Morris https://t.co/c76STXQaQe
August 6, 2021
But doctors, health charities and politicians have all recently sounded the alarm about PMI owning a company whose medicines treat smoking-related diseases.
As we wrote on Friday:
Anti-smoking campaigners and politicians had criticised Vectura for proposing to sell up to a tobacco company. The chief executives of Cancer Research UK, Asthma UK, the British Lung Foundation and Action on Smoking and Health wrote to the business secretary, Kwasi Kwarteng, and the health secretary, Sajid Javid, calling on the government to block the deal.
The charities said there was a "real prospect" that PMI would use Vectura to "legitimise tobacco industry participation in health debates within the UK"
The takeover of Morrisons rumbles on too, with the Takeover Panel announcing this morning that private equity firm Clayton, Dubilier & Rice has been given until August 20 to bid for the supermarket chain, or walk away.
They had been facing a 5pm deadline today, before rival bidder Fortress lifted its bid on Friday.
entrustTMF
(@entrustTMF)
Takeover panel has extended deadline for #MRW / $MRW bid:-
the Executive has ruled that…CD&R must now by 5.00 pm on 20 August 2021 either announce a firm intention to make an offer for Morrisons under Rule 2.7 of the Code or announce that it does not intend to make an offer…
August 9, 2021
The agenda
9am BST: Sentix survey of eurozone investor morale
3pm BST: US Jolts survey of job openings
4pm BST: US consumer inflation expectations for July