[ad_1]

HUW TURBERVILL: These are emotive times. I have been told that, as managing editor of The Cricketer, I shouldn't be tweeting or even talking about 'the Hula Hoop Cup'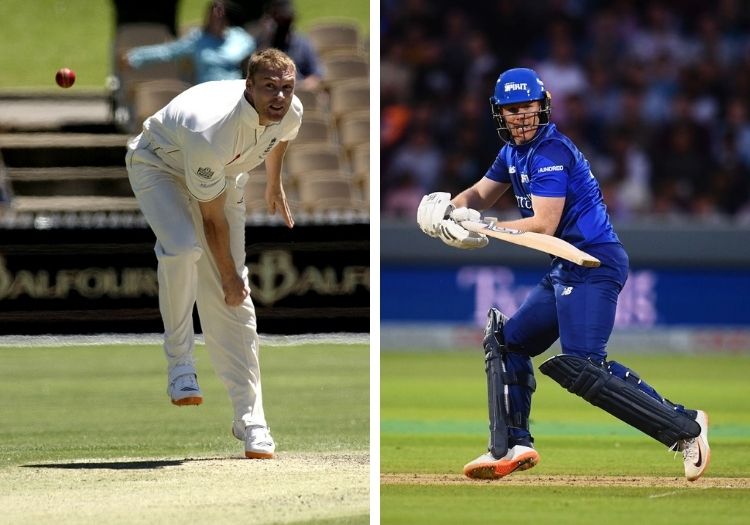 "They bowl a heavy ball."
Most people who play cricket have heard this expression.
It describes a bowler who doesn't look that quick when they run up, but when their delivery hits the bat it does so with surprising force. My first encounter with it was as a 12-year-old, the ball fizzing in the air towards me from some 40-year-old, 18-stone brute.
For people who haven't played much but still love to watch, it can leave them incredulous.
I recall trying to describe the phenomenon to a cricket-mad editor of a national newspaper who had not played the game (certainly not to any great level, anyway).
He was obsessed by the speed gun. It was the days of Steve Harmison, who was undeniably quick, and Andrew Flintoff, who was deceptively (although they both touched 90mph at times).
A colleague and I said Flintoff bowled a heavy ball, which if memory serves me directly, Mike Atherton, who was in attendance, confirmed. The editor was having none of it, though. For him, the speed gun was the only relevant information. He refused to acknowledge such a phenomenon could exist.
The Australian offie, Chris Green, did a neat job articulating what a heavy ball was on TMS (on Radio 5 live sports extra) last week, during the London Spirit v Trent Rockets match at Lord's.
I was driving so couldn't make an exact note of what he said, but he talked about tall bowlers, and their awkward trajectory. I don't think it's exclusively tall bowlers who deliver a heavy ball, though. Darren Gough's skiddiness also managed it, I assume. Jacques Kallis could be another 'heavy'.
Andrew Flintoff: Bowler of a heavy ball
Green is a good pundit, although modern TMS fell into its trap of going off-piste for a bit too long… for me, anyway. There was a passage of play when he and his colleagues, Heather Knight and Henry Moeran, who both contributed some interesting things the rest of the time, discussed waitering and their experiences in the restaurant sector. The cricket was forgotten for a bit… which, when you consider that there isn't actually that much of it in The Hundred, was a bit frustrating. It's an entirely subjective choice, but I want to hear about the match, not what people have done in their personal lives so much.
These are emotive times. I have been told that, as managing editor of The Cricketer, I shouldn't be tweeting or even talking about 'the Hula Hoop Cup'.
Then on the other hand, after watching Oval Invincibles v Welsh Fire in the flesh at the Kia Oval, and writing a report on it for this website, I was informed that I was not being supportive enough about it.
You can't win…
I am happy to talk about all aspects of the game.
Yes of course The Hundred has piqued my interest. Some bits are okay, some are tacky. I agree it has clearly enthused some kids, and casual fans.
There was a 20,000 crowd at The Oval on Monday, which Trent Woodhill – the tournament's high-performance consultant ('blue-sky thinker') – noted, in a tweet to me, can't be bad (although the long queue into Vauxhall station afterwards was a bit of a bore).
My son, 16, and his friends went to the match and had fun. I have also heard anecdotes about youngsters who have expressed scant interest in counties like, for example, Nottinghamshire, now demanding a Trent Rockets shirt. Time will tell how long this devotion lasts.
My friends from Suffolk were also at The Oval. The youngsters loved it, the adults could not see what all the fuss was about. Dex Marshall, 9, thought it was "awesome", but father Jim, 48, said "it was insufficiently different from T20". He liked the fixed time periods but felt that the white cards to mark the end of a 'set' were silly.
My views are out there: it should have been a county T20, with divisions of eight and 10. They could have had four or five overs from one end at a time to speed things up for the BBC if need be – because of course they have so many other great programmes to squeeze into the schedules.
I don't hate the format – I played my third match of The Hundred in three years on my annual tour to Suffolk at the weekend as it was the last day and we wanted a quick contest before returning to London. My opposing captain Rob Sledmere loved it, saying it offered something to all ages. I just worry about the effect that the tournament is going to have on the counties.
I had an interesting little exchange with Kevin Pietersen on Twitter.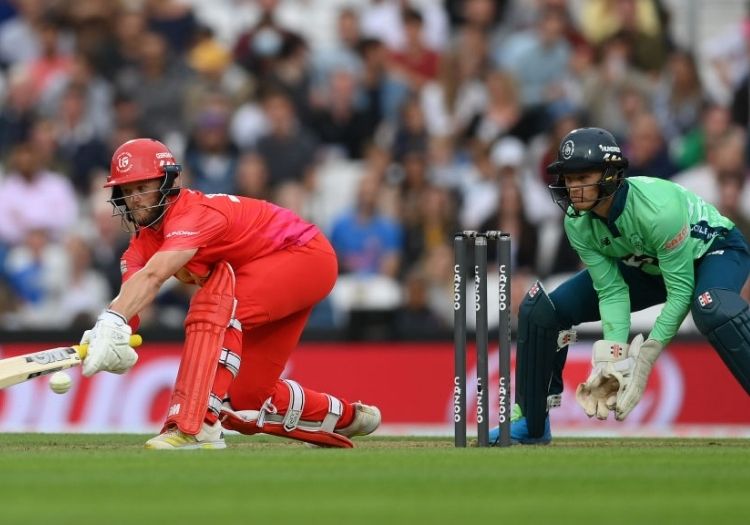 Action from The Hundred
He covets fewer county sides, and a reduction from 14 to 10 in the number of first-class matches played per summer.
"It might make financial sense but it's sad to lose things we love," I commented.
"Not sure what you're referring to 'lose things we love'?" he replied.
If we go to 10 first-class matches (which are vulnerable to the weather in the UK far more than other countries) then we lose 40 days of Championship cricket – that people love following in the flesh, via streaming, via updating scores on websites, by reading about it in The Cricketer and other publications.
And clearly there is a danger to counties. Pointless presenter Richard Osman articulated the dangers succinctly in The Cricketer in the April issue. Kids will now want the Brave, the Rockets and co playing all the cricket.
Surrey members implored Richard Gould, the chief executive of the county who were seen as the main resistors at the time, to not sign the contract, but they gave in.
(Mind you KP said Chris Jordan "doesn't have any mystery" on one of his commentaries so we clearly think in different ways. He also talked about the 'Oval Invisibles' which made many of us titter.)
Test cricket and the County Championship are still my main interests in professional cricket.
Which is why I am bitterly disappointed that the maestro, Nasser Hussain, will not be at the first two Tests for Sky; he's staying with The Hundred.
"There was never really any momentum built at the start of The Hundred on terrestrial. The first match was on the Thursday night and then the second and only other one that week was on Sunday afternoon at 2pm"
I'm also disappointed that the BBC TV contract (2020­–24) didn't go far enough, frankly. As my friend Andy – another casual fan – pointed out, there was never really any momentum built at the start of The Hundred on terrestrial. The first match was on the Thursday night and then the second and only other one that week was on Sunday afternoon at 2pm (both on BBC2)… and London Spirit v Oval Invincibles was rained off). It needs to be on every evening really (as a simulcast with Sky).
You have to give some praise to ECB chief executive Tom Harrison for getting the Beeb back to the negotiating table and agreeing to show our beloved sport again, but no Tests?
Could they not have had one per summer at least?
'The Lord's Test' would be a major event – or failing that any of them really if they want a more urban or provincial theme.
It would be like The Open (oh, whoops the BBC have lost that to Sky as well).
Wimbledon, then.
Or could they even show the final session of every Test day on BBC2 or 4 even, from 4pm to 7. Yes Sky would have to pay less as they had lost their exclusivity, but we can all see the difference the BBC makes in cricket's case.
Your comment ….
Post Comment
Please ensure all fields are completed before submitting your comment!